AND MY BEACHBODY MESSAGEBOARD THREAD
http://www.teambeachbody.com/en_US/connect/message-boards/-/message_boards/message/435582196
I got too busy this week to Blog About...myself.
A recap
Workouts Still Good.
Morning Workouts Still OK.
But. I got sick.
I had the Chills.
Then. I was sweating my Butt off.
But I'm feeling pretty good now.
Being Sick actually worked out pretty Good with my morning workout schedule.
I got my Chest/Back Workout in, in the morning Tuesday. I felt Horrible starting in the Afternoon. By Wednesday after work I felt decent, so I did some Yoga.
Anyway.
Everybody have a great weekend.
STUFF FOR MONDAY 12/8/14
Ab Ripper X
Yoga
Just the First Half Hour
OTHER STUFF
Walk
2 Miles
Hand Grips
20lbs x20 Each Hand x2
20lbs Inverted x20 Each Hand x2
150lbs x5 Each Hand x2
150lbs Inverted x5 Each Hand x2
200lbs x4 Each Hand x1
200lbs Inverted x4 Each Hand x1
250lbs
x3 Each Hand x3
250lbs
Inverted x3 Each Hand x3
300lbs Negatives (Hold for 3 sec) Each Hand x3
FOOD
Breakfast


(4) Slices of Rye Toast


Lunch


(12) Chick Fila Nuggets


Dinner
Chicken Soup
STUFF FOR TUESDAY 12/9/14
Chest/Back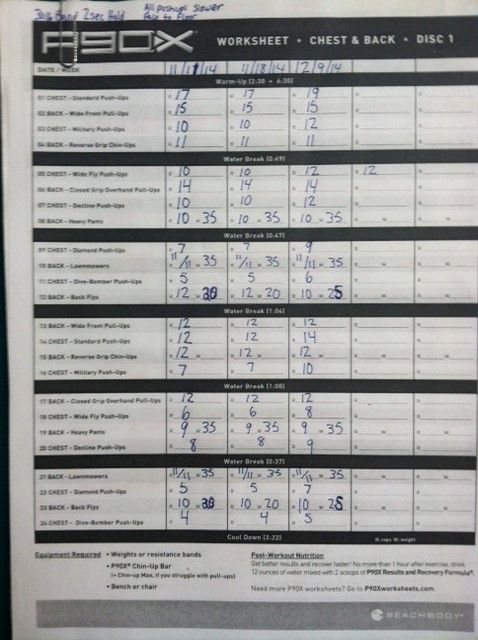 Bat
Heavy x 5 *** Light x 5
Heavy x 5 *** Light x 5
Heavy x 5 *** 33oz x 5
FOOD
Breakfast


Turkey and Cheese Sandwich


Dinner
Chicken Soup
STUFF FOR WEDNESDAY 12/10/14
Ab Ripper X
Yoga
Just the First Half Hour
OTHER STUFF
Walk
2 Miles
Hand Grips
20lbs x20 Each Hand x2
20lbs Inverted x20 Each Hand x2
150lbs x5 Each Hand x2
150lbs Inverted x5 Each Hand x2
200lbs x4 Each Hand x1
200lbs Inverted x4 Each Hand x1
250lbs
x3 Each Hand x3
250lbs
Inverted x3 Each Hand x3
300lbs Negatives (Hold for 3 sec) Each Hand x3
FOOD
Breakfast


(2) Slices of Rye Toast


Lunch


(24) Chick Fila Nuggets


Dinner
Grilled Chicken
Baked Potato
STUFF FOR THURSDAY 12/11/14
Plyo X
OTHER STUFF
Walk
2 Miles
FOOD
Breakfast
Chocolate Shakeology with A TON of Peanut Butter
Lunch
Chocolate Shakeology with A TON of Peanut Butter
Dinner
(2) Turkey and Cheese on Rye Sandwiches
Baked Chips